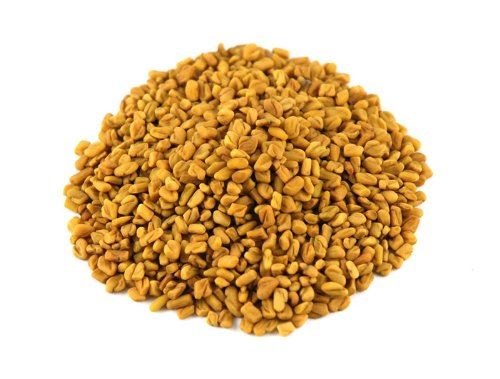 Characterized by its unusual bitter-sweet taste and strong flavour, fenugreek seed is a staple spice used in Indian cooking to improve the flavour of dishes. Widely used for its powerful flavour, fenugreek seed is a common ingredient in curry powders and pickles. When used as tampering in roasted, fried or whole form, fenugreek seeds transform magically to enhance the flavour and taste of the dish. Due to their strong flavour with a bitter undertone, fenugreek seeds are used in very less quantity in cooking.

Use of fenugreek seeds:

Fenugreek seeds commonly called as Methi seeds are mainly used in roasted and sprouted form. While sprouted fenugreek seeds are used in salads, soups or stir-fries as a garnish or to impart pleasant flavour, dry roasted methi seeds is a popular tempering ingredient for many lentil and vegetable dishes. Fenugreek seeds are used in spice blends such as panch phoran (Indian five-spice), garam masala.

Health benefits:

Native to the Mediterranean region and western Asia, fenugreek seed has been used since the ancient time for its amazing medicinal properties. Rich in minerals like iron, manganese, antioxidants and important dietary fiber, fenugreek seeds have an incredible list of health advantages.

• It may help to reduce the risk of cancer and heart diseases
• It boosts testosterone level and sexual function in men
• It may help control blood sugar level and prevents diabetes
• It improves breast milk production in new mothers
• It helps to alleviate menstrual pain.
• It can help with ulcerative colitis, gastritis, skin, problems, and many other conditions.
• It may improve digestive health and prevent constipation.
• It promotes healthy hair and makes your tresses shiny.

Instrumental in offering the premium quality of fenugreek seeds to customers across the globe at pocket-friendly prices, the suppliers in Tamil Nadu, have established a strong dominance in the global spice market. By following quality assurance procedures, the dealers and exporters of fenugreek seeds in the state, offer an extensive range of fenugreek seeds to the customers worldwide at are highly valued for their purity, strong flavour, mildly nutty taste, longer shelf life and reasonable price range. Following are some of the most important factors that are taken into account by the suppliers of fenugreek seeds in Tamil Nadu to stand tall in the market.

• They source their offered product from recognized cultivators in the state who grow fenugreek under controlled conditions without using harmful pesticides.
• They offer the fenugreek seeds in customized industry-grade, moisture-proof packaging options as per the diverse requirements of customers.
• They always maintain transparency in all their transactions and direct all their activities to cater to the expectations of their customers worldwide.
• They ensure the on-time and safe delivery of the orders.
• Every packet of fenugreek seeds are checked by agro experts on some pre-set strict quality grounds before forwarding the shipments to the marketplace.
• With the help of a wide distribution network and great infrastructure, they can easily cater to the bulk and urgent orders of fenugreek seeds in diverse specifications across the country.

Widely used as a tempering agent in Indian cuisine, fenugreek seeds have a huge demand in the market.