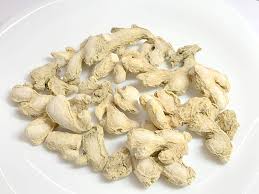 Ginger is one of the most widely consumed spices while cooking various food items and it is also used as a traditional medicine for ages as herbal remedies in treating several diseases such as common cold, bad cholesterol, nausea, morning sickness, indigestion, migraines etc. Gingerol is the major bioactive component in dry ginger which has anti-inflammatory and antioxidant properties which offers various health benefits and gives ginger a sweet-spicy aroma.

Production & Consumption of Dry Ginger

India has an immense production and consumption of ginger and Kerala is the hefty ginger producing state in India. Other states are Assam, Orissa, North east states like Meghalaya, Sikkim, Mizoram, Tripura, Tamil Nadu, Manipur, Nagaland and Arunachal Pradesh. Its production requires high humidity throughout the crop period. Ginger is generally supplied as dry ginger but it has various other forms like powder, pulp and oil. Dry ginger is as good as fresh ginger and easily available in the market. It can be used as a flavouring agent in food preparations and widely used to make pickles.

Dry Ginger Supplier

India is a wide market for Dry ginger suppliers and VGM Traders is a prominent exporter & supplier of Dry Ginger in Tamil Nadu. We provide supreme quality ginger to our consumers in high grade packaging at reasonable prices. We ensure to maintain the freshness and natural taste of the ginger intact for a longer duration.

Dry ginger suppliers from Tamil Nadu should take due care of the following critical points-

• They should procure ginger that is enriched with attributes like great aroma & natural taste, shiny skin.
• The dry ginger suppliers should have rigorous procedures for vendor selection.
• They should have a separate quality check department and warehousing facility to provide the highest quality of ginger to its clients.
• They should ensure complete hygiene while packaging and make them available in food grade packaging material to keep its taste intact for longer duration.
• They should have adequate capacity to meet the requirement of India's most consumed spice.
• These dry ginger suppliers should make the ginger available in the market at affordable rates.

Benefits of consuming dry ginger in many ways are-

• Drinking a cup of ginger tea helps relieve the pain and aches especially during the menstruation days.
• It is useful in improving digestion and bloating after eating too much as it reduces discomfort and pain in the stomach.
• Dry Ginger in lukewarm water along with honey provides relief in nausea and morning sickness.
• Ginger with salt is an ideal herbal remedy for treating inflammation due to injuries in fingers or joints.
• Dry ginger helps in weight loss as it helps in boosting metabolism and absorbing stored fats.
• Its sweet-spicy aroma has calming properties which may help reduce stress and hypertension.
• It actively helps in controlling major health issues like blood pressure, blood clots, bad cholesterol, blood circulation and heart attack.

Hence, it can be concluded that dry ginger is the highly consumed and versatile spice in India and dry ginger exporters in Tamil Nadu are playing a great role in boosting the country's economy.
This entry was posted on April, 29, 2020 at 16 : 00 pm and is filed under Ginger. You can follow any responses to this entry through the RSS 2.0 feed. You can leave a response from your own site.